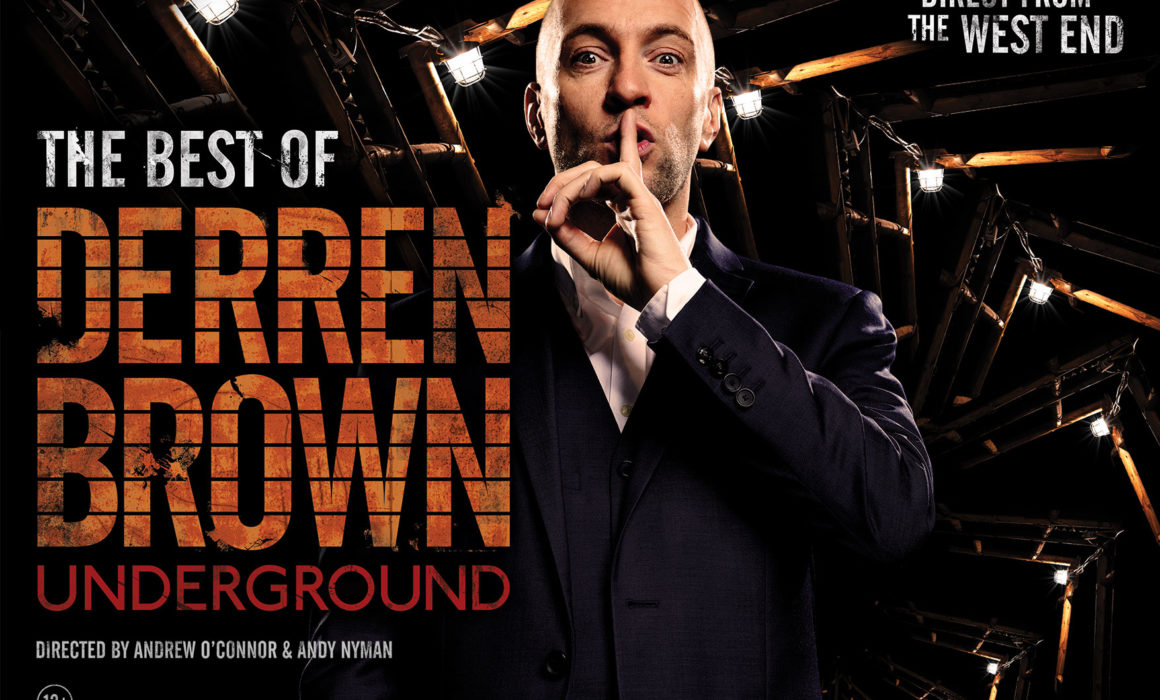 DERREN BROWN: UNDERGROUND ~ Tour Dates 2018
Derren Brown, the multi-award winning master of mind control and psychological illusion, is bringing his latest sensational show UNDERGROUND back to UK and Irish theatres in 2018.
From April 3 to July 5 2018, Brown will be enthralling audiences with his 2017 'Best of' hit show, UNDERGROUND in which he fuses together a collection of his favourite work to create a jaw-dropping experience of magical genius.
Derren revealed: "Underground was originally written for audiences in other countries who hadn't seen me before. It meant finessing and re-visiting past pieces and seeing them with fresh eyes.
I sat down with my two co-writers and directors and we thought – 'What would make the best possible Derren Brown show?' None of us were sure what the UK would make of it, but the resulting show felt so good, and met with such a great response when warming it up in London, that we decided to tour it here too. The reviews have been astonishing, and people who've seen all the shows have said they love being surprised by them again, and those who don't know me so well are getting to see the best material for the first time. It's a huge, huge joy to perform".
This is the second leg of the UNDERGROUND tour, direct from the West End production at the Playhouse Theatre, which ran for thirty-five packed out performances in September & October 2017. The sixty-three day tour will embrace Dublin and Cork and include Belfast, Cardiff, Glasgow, Liverpool, Norwich Hull, Canterbury, Nottingham, Eastbourne, Bournemouth, Dartford and Southend.
DERREN BROWN: UNDERGROUND is presented by Michael Vine, Andrew O'Connor, Derren Brown and Paul Sandler for Vaudeville Productions Ltd. and David Binder. It is directed by Andrew O'Connor & Andy Nyman and written by Andy Nyman, Andrew O'Connor & Derren Brown. Setting by Will Bowen, Lighting Design by Charlie Morgan Jones. General Manager is John Dalston.
TOUR DATES & VENUES
(Check back soon if there isn't a tickets link at your preferred below – we'll be adding each link as soon as it goes on sale!)
LIVERPOOL
April 3, 4, 5, 6, 7
Royal Court Theatre
Tel: 0151 709 4321
TICKETS
EASTBOURNE
April 10, 11, 12, 13, 14
Devonshire Park Theatre
Tel: 01323 412 000

TICKETS
HULL
April 17, 18, 19, 20, 21
New Theatre
Tel: 01482 300306
TICKETS
NOTTINGHAM
April 24, 25, 26, 27, 28
Theatre Royal
Tel: 0115 989 5555
TICKETS
CARDIFF
May 8, 9, 10, 11, 12
Wales Millennium Centre
Tel: 029 2063 6464
TICKETS
DUBLIN
May 15, 16, 17, 18, 19
Gaiety Theatre
Tel: +353 818 719 388
TICKETS
BELFAST
May 22, 23, 24, 25, 26
Grand Opera House
Tel: 028 9024 1919
TICKETS
CORK
May 
28, 29, 30, 31
Opera House
Tel: +353 21 427 0022
TICKETS
GLASGOW
June 5, 6, 7, 8, 9
Theatre Royal
Tel: 0844 871 7647
TICKETS
BOURNEMOUTH
June 11, 12,13
Pavilion Theatre
Tel: 01202 055660
TICKETS
DARTFORD
June 15, 16
Orchard Theatre
Tel: 01322 220000
TICKETS
NORWICH
June 19, 20, 21, 22, 23
Theatre Royal
Tel: 01603 630000
TICKETS
CANTERBURY
June 26, 27, 28, 29, 30
Marlowe Theatre
Tel: 01227 787787
TICKETS
SOUTHEND-ON-SEA
July 2, 3, 4, 5
Cliffs Pavilion
Tel: 01702 351135
TICKETS
(Not suitable for under 12s)